As pest control devices go, scarecrows are pretty lame, as anyone who has seen "The Wizard Of Oz" knows.
But as folk art goes, they can be quite attractive, as is evidenced in the number of scarecrow festivals held each year in late summer and early fall all over the northern hemisphere.
One of the most famous is the Kettlewell Scarecrow Festival in Kettlewell, England, which, since 1994, has given the townspeople a chance to express their creativity and local merchants to make extra dough selling burlap and straw.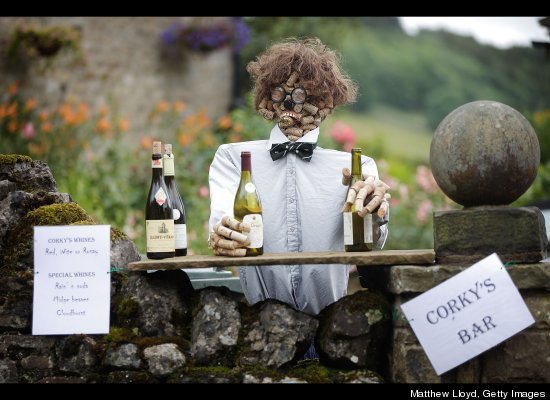 The festival started as a way to raise funds for a local school, but the enthusiastic response of parents and residents led to more than 100 scarecrows appearing in gardens, open spaces, hidden corners and even on rooftops.
The event has become an annual tradition and now attracts thousands of scarecrow groupies over a nine-day period in August.
Although scarecrows are an ancient tool, the locals aren't stuck in the past in terms of their designs. Yes, some of the scarecrows are traditional, but USA Today reports that others parody celebrities or current events. For instance, one homeowner created a scarecrow version of the recent Royal Wedding, according to USA Today.
The festival continues until Aug. 21, when a prize will be awarded to the best scarecrow of the year.
Until then, the town encourages human visitors to walk something called the "Scarecrow Trail," where they can identify selected scarecrows and solve clues to a puzzle which, each year, is based on a different theme.
However, as always, crows are not invited.