A state fair is not just an event, it's a state of mind -- an alternate state of consciousness where the normal rules disappear.
The logical side of the brain that tells you to seek a healthy balanced diet somehow decides that the four food groups include bacon, butter, chocolate and bacon.
Something in the air makes people who normally won't ride in a car that doesn't have air bags are suddenly willing to throw caution to the wind and go on rickety carnival rides run by grizzled carnies who may or may not have all their teeth.
People who are normally obsessed with their fantasy sports leagues, suddenly take a deep-rooted interest in pig racing or outhouse racing.
PHOTOS: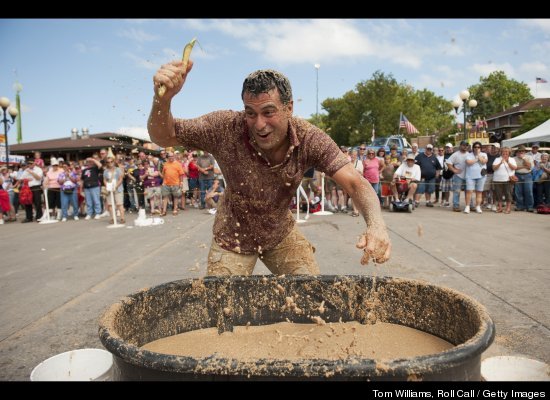 What gives?
Well, there is something about it that inspires people to revert to that joyous innocence of childhood, a time when it was possible to believe you actually had a chance to knock down on the milk bottles and win that giant trademark-violating stuffed animal you just have to have.
The state fair only comes once a year, but maybe these photos will bring back that deliriously delicious feeling long after the last 4-H member has sold Wilbur the pig to the friendly owner of a slaughterhouse.
Mmmm, bacon.