What do you buy for the chimp that has it all -- or at least all of the bananas he wants?
Apparently baked potatoes, oranges, apples, porridge and even more bananas.
At least that's what keepers at Scotland's Edinburgh Zoo gave Ricky, a chimpanzee who celebrated his 50th birthday on Monday, the Daily Record reports.
Animal experts also made a giant birthday banner for the zoo's oldest resident, who arrived in Edinburgh in 1966.
These days, Ricky can be found scaling the tallest point of the zoo's chimpanzee enclosure, munching on his favorite foods, socializing with other chimps.
But he suffered much before arriving at the zoo in 1966. Zoo officials believe his parents were slaughtered by poachers, according to The Herald.
The chimp then spent four years as a mascot on a Merchant Navy ship.
"It is often very difficult for chimpanzees like Ricky who have been taken from their mothers at a young age and who have had little contact with other chimps due to illegal trading to be accepted by other chimpanzees, who naturally live in complex social hierarchies," Darren McGarry, the zoo's head of animals, told the Edinburgh Reporter. "Luckily Ricky's lovable and gentle personality has helped him find his place and he has been warmly accepted by the chimpanzee group here at Edinburgh Zoo."
Officials don't know the exact day that Ricky was born, so they decided to throw the party on the same day that primate keeper Sarah Gregory turned 30, the paper notes.
SEE CUTE PHOTOS OF THE BIRTHDAY CHIMP: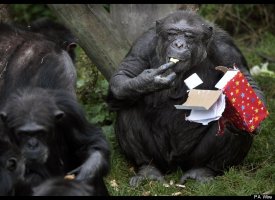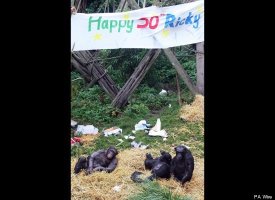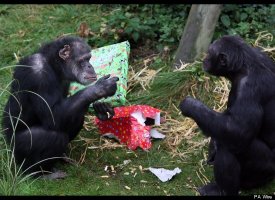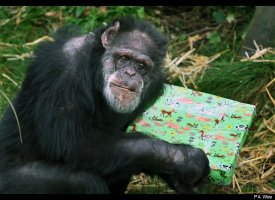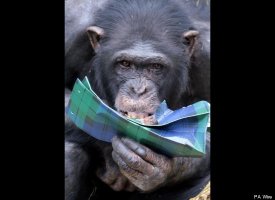 Ricky isn't the world's only mature monkey. Keo, a popular chimp at the Lincoln Park Zoo in Chicago, turned 50 in 2008. He received a huge ice sculpture filled with fruit.
SEE VIDEO FROM KEO'S 50TH BIRTHDAY: