Just as Scotland's Loch Ness has an alleged lake monster known as Nessie, Alaska's Lake Iliamna has its own reported beastie dubbed "Illie."
But is the Alaskan version of the Loch Ness Monster a true unknown elusive creature? As with all unexplained phenomena, it depends on whom you ask.
Alleged sightings of a lake monster in southwest Alaska's nearly 80-mile-long, 22-mile-wide body of water began in the 1940s with pilots reporting observations of very large fish from the air.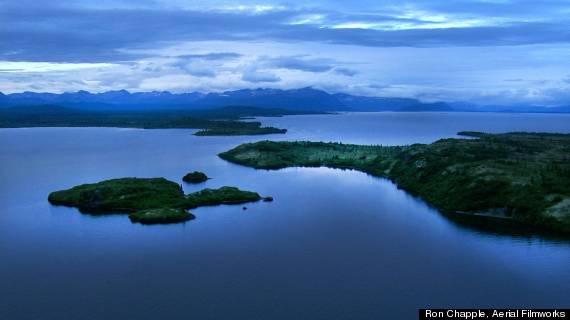 The beast has been described as having a long, aluminum-colored body that has been estimated at nearly 30 feet long.
Over the next three decades, enough reports of strange creatures in the lake finally prompted the Anchorage Daily News to offer a $100,000 reward in 1979 for evidence of the animal's existence. Nobody won.
But now, one scientist thinks Illie may turn out to be a variety of a sleeper shark.
"Certainly the size and the shape and the color seems to match a lot of the descriptions," said Bruce Wright, a biologist and senior scientist with the Aleutian Pribilof Islands Association in Anchorage, Alaska.
If a 20-foot sleeper shark lives in the huge Alaskan lake, it could account for many of the reports made by people who see something they can't identify break the surface of the water.
"What confuses me is this [habit of the creature] breaking the surface. I don't know if sleeper sharks do that," Wright, author of "Alaska's Great White Sharks," told The Huffington Post.
"They do use the surface waters but tend to stay down deep during the day and come up at night," he added.
Another puzzling question is whether sleeper sharks can live in a freshwater environment like Lake Iliamna.
"That's still something that hasn't been determined," Wright said.
At the very least, whatever the mystery monster turns out to be, it has no shortage of a food supply, as Lake Iliamna is one of the major red salmon spawning lakes.
Wright said he plans to lead an expedition to Iliamna this summer to search for the sleeper sharks he suspects live there. If he can prove these creatures are responsible for all of the monster reports at the lake, he'll next set his sights on Nessie in Scotland.
The biologist would like to become known as the man who put the Loch Ness Monster legend to rest.
"You study these things for 30 years and you're bound to figure out something," he said.
Loading Slideshow
Chupacabras

Phylis Canion holds the head of what she called a Chupacabras at her home in Cuero, Texas, on Aug. 31, 2007. She found the strange-looking animal dead outside her ranch and thinks it is responsible for killing many of her chickens.

Loch Ness Monster

A view of the Loch Ness Monster, near Inverness, Scotland, on April 19, 1934. The photograph, one of two pictures known as the "surgeon's photographs," was allegedly taken by Col. Robert Kenneth Wilson, though it was later exposed as a hoax by one of the participants, Chris Spurling. On his deathbed, Spurling revealed that the pictures were staged by himself, Marmaduke and Ian Wetherell, and Wilson. References to a monster in Loch Ness date back to St. Columba's biography in 565 A.D. More than 1,000 people claim to have seen "Nessie," and the area is, consequently, a popular tourist attraction.

Bow-Nessie

In England, a kayaker took this photo on Lake Windemere, near Bowness in Cumbria. "At a distance, I thought it was some sort of large dog," said Tom Pickles. "Then I realized just how long it was." Ever since the first reports of Bow-Nessie emerged in 2006 from Lake Windermere, a legend has taken root with people wondering if this could be a not-too-distant relative of the legendary Loch Ness Monster of Scotland.

Loch Ness Sighting

This is a photo of boats at Urquhart Bay, Loch Ness, Scotland, on Aug. 6, 1983, made by American wildlife photographer Erik Beckjord. It shows splashes on the surface of Loch Ness made by an unidentified object (white mark at center right), which Beckjord claimed could have been made by the Loch Ness Monster.

Loch Ness Monster Fin

Robert H. Hines, president of the Academy of Applied Science, released this photo during a 1972 investigation of Loch Ness. Hines said his expedition took photo, which he said showed the fin of the Loch Ness Monster, and that it was substantiated by sonar and other scientific data that strongly suggests there is a large marine creature inhabiting Scotland's Loch Ness.

Mersey Monster

This mysterious shape was captured by photographer Mark Harrison while riding on a ferry off the Seacombe district of Wirral in the United Kingdom on the morning of May 25. Experts claim that it could be a harbor porpoise or a basking shark, but Harrison says, "Me? Clearly, I believe it's Nessie on her hols!"

Nessie and Alaska's Illie May Be Sleeper Sharks

This 2000 image shows biologist Bruce Wright in salt waters in southeast Alaska with a small Pacific sleeper shark that was caught on a research cruise. He believes much bigger versions of this shark group could be the true identity of Scotland's Loch Ness Monster and Alaska's Lake Iliamna creature known as Illie.

Dorset Pliosaur

The giant jaws of a huge marine reptile are on permanent display at Dorset County Museum in the UK. Dating back around 155 million years, the pliosaur skull was discovered on the nearby Jurassic Coast World Heritage Site, and is one of the largest and best preserved fossils of its kind ever found.

Montauk Monster

Was it a dog or a pig or something else? Nobody knows for sure, but this animal was discovered in 2009 on a beach in Southold, on the North Fork area of New York's Long Island. Subsequent photos were published on <a href="www.montauk-monster.com" target="_hplink">Montauk Monster</a>.

East River Monster

This Atlantic sturgeon corpse measuring more than 6 feet long was pulled from the East River in New York City near Pier 17 on May 21, 2011. <a href="http://www.ny1.com/content/139542/mystery-east-river-fish-identified-as-sturgeon" target="_hplink">Watch video here.</a>

Bigfoot in Rutherford County, N.C.

Thomas Byers snapped this photo of "Bigfoot" along Golden Valley Church Road on March 22, 2011.

California Bigfoot

This is a 1977 still photo from a 16 millimeter film made by Ivan Marx reportedly showing the legendary Bigfoot cavorting in the hills of Northern California.

Washington State Sasquatch

This is a black and white print from a color movie Frank White said he took in the forest near Bellingham, Wash., on Oct. 8, 1977. "I'd call it a North American ape," said White. "You can call it a Sasquatch or anything you like."

Georgia Bigfoot

This still-frame image from video provided by Bigfoot Global LLC shows what is claimed by them to be a Bigfoot or Sasquatch creature in an undisclosed area of a northern Georgia forest in June 2008.

Bigfoot Footprint

The legend of Bigfoot has baffled many people for decades, especially when images like this one are released. A footprint measuring 17-and-3/4 inches long and 7-and-1/2 inches wide was discovered Aug. 26, 1980, at a residence in the Conemaugh Township area of Johnstown, Pa. A very well-defined print was left behind, if indeed it was Bigfoot, plus a left print was found eight feet away in a more wooded area. Along with the footprints, reports of strange noises and a very unusual but strong odor coincided with the account.

Bigfoot Plaster Cast

Ken Gerhard of Houston holds a duplicate plaster cast footprint at the Texas Bigfoot Conference in Jefferson, Texas, on Oct. 15, 2005. The event was hosted by the Texas Bigfoot Research Center.

Bigfoot Casts

Al Hodgson, a volunteer guide at the Willow Creek-China Flat Museum, holds up a plaster cast of a Bigfoot imprint displayed at the museum's Bigfoot Wing in Willow Creek, Calif., on June 5, 2000. The wing was built to bring tourists interested in the legendary creature to the economically depressed ex-lumber town.

Bigfoot Body?

This photograph obtained Aug. 15, 2008, from <a href="www.searchingforbigfoot.com" target="_hplink">Searching For Bigfoot</a> shows what is purported to be the body of the legendary ape-like creature that has been the subject of decades of hoaxes and dubious sightings. Matthew Whitton and Rick Dyer claimed before a crowd of skeptical reporters in Palto Alto, Calif., that they were hiking in a northern part of Georgia when they stumbled upon the body near water. The corpse was said to be 7 feet, 7 inches tall, weighing more than 500 pounds. Many scientists believe Bigfoot is folklore instead of fact.

Abominable Snowman Footprint

This alleged Abominable Snowman footprint photo was taken near Mount Everest on Dec. 13, 1951.

The Jersey Devil

An artist's rendition of the Jersey Devil, based on eyewitness reports of a creature said to roam the Pine Barrens area of New Jersey.

Mothman

A large Mothman sculpture stands along Main Street on Dec. 11, 2007, in Point Pleasant, W.Va. More than 40 years after the first reported sighting of the mysterious creature later dubbed "Mothman," residents here have embraced his legend, helping to turn the town into a destination for people in search of an offbeat tourism experience.
Watch a sleeper shark 9100 feet deep off the coast of Brazil on Feb. 11, 2012: