Bras, braces, makeup are all rites of passage for many teen girls. But if you're a member of the Marshall family, so are boob jobs.
Britney Marshall, a 14-year-old from Nottinghamshire, England, is the youngest girl of the Marshall family and the only one without breast implants. Her mother, Chantal Marshall, told the Sun, "Britney is going through a funny phase at the moment and saying she doesn't want to get her boobs done."
And Marshall really wishes she would, telling the Sun:
"At the moment she doesn't really have what I would say are boobs -- but I'd like her to follow in her sisters' footsteps... I really love the fake look of my girls and I know Britney will go that way when she's a bit older."
Chantal and her four other daughters collectively own £50,000 worth of fake breasts, with sizes ranging from 32DD (21-year-old Ripley) to 34HH (27-year-old Terri). But Britney's au naturel... for now. The "brainy" one of the family, Britney told the Sun, "Maybe I'll decide to get them too and start saving in a few years. But for now I want to focus on my school work."
That crazy girl. For what it's worth, it seems Britney's brothers provide an alternative perspective on the matter. According to the Daily Mail, Chantal Marshall admitted, "Some of my sons think we're crazy... They keep telling Britney she should be different."
The desire for breast implants isn't a new or surprising phenomenon, particularly in England. Last summer, a poll of 8,000 American and British women found that 35 percent of American women "loved their boobs" while only 20 percent of U.K. respondents felt the same way. But a mom encouraging her uninterested daughter to get breast implants? We've got to imagine (and hope?) that's a rarer occurrence.
Read more at TheSun.co.uk and DailyMail.co.uk. Below, a photo of the Marshall women with Britney in the center.
PHOTO: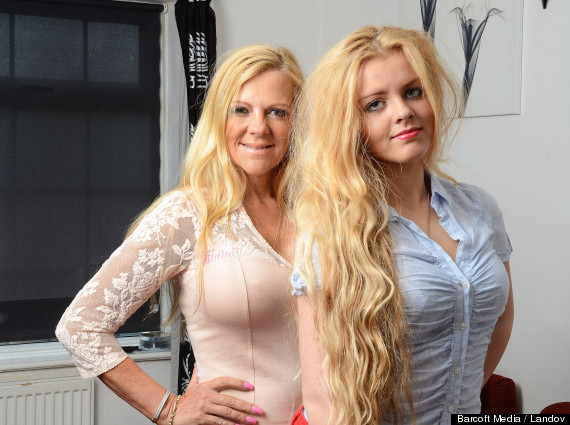 Celebrities talk about plastic regrets:

Loading Slideshow
Sharon Osbourne

"I wish I'd never had my breasts done the last time," she told New Magazine. "They've put these bloody great bags in that are too f***ing round--it's like a water bed on your chest."

Denise Richards

"When I was 19, a doctor put in bigger implants than what I asked for. I was in such a hurry to get them that I didn't research my doctor," Richards told Us Weekly. "I just thought because they're a plastic surgeon, they must be good. You have to be your advocate for your own body and ask 100 questions." Later Richards wrote: "At 19 when I first got my breasts done, I wish that I was confident enough with my body to not have had surgery. That is something that I really want to encourage in my daughters, to embrace their healthy body and have confidence. I actually feel more confident in my skin now than in my 20's. Being confident is one of the sexiest qualities a woman can exude."

Jenny McCarthy

"Me and my friends found a doctor in Arizona that cost about $1,500 to get our boobs done--because they didn't use anesthesia and I didn't know it," McCarthy told WENN. In a later interview with Us Weekly, the former playmate said she was "too young" when she got her implants at 19.

Victoria Beckham

In an interview with British Vogue, Victoria was asked about the absence of her "torpedo bazookas", to which the former Spice Girl reportedly replied, "gone".

Kimberly Stewart

In an interview with Now Magazine, Kimberly states her famous father was supportive of his daughter when she had the implants put in at 18, and even more supportive when she decided to get rid of them. She recalls, "He's very supportive of whatever I do. He was just like, 'If you don't feel comfortable, if you don't feel safe, just get them removed.'"

Kourtney Kardashian

When she was 22, she got surgery to go from a B-cup to a C-cup. "It was so dumb... I just got the idea in my head one day, and that was that. There was no talking me out of it," said Kardashian in an interview with Us Weekly.

Danielle Staub

Last year, Staub had another surgery to correct a botched boob job she got done when she was younger. "She was very upset with her breasts," her doctor, Michael Fiorillo told, Us Weekly. "Scar tissue formed around the breast implant and that makes the implants hard, cold and deformed...the right one was almost up by her neck!"

Kim Zolciak

Kim got her breast implants at age 20. Looking at pictures of herself on vacation in Miami last year, Zolciak couldn't believe what she saw. "My boobs looked crazy and saggy," she revealed to In Touch.

Heidi Montag

The Hills star -- now a size "E or F" depending on the bra had a staggering 10 procedures done in one day. "I'm obsessed with fitness but it's impossible to work out with these boobs," Montag told Life and Style Magazine. "It's heartbreaking. I can't live an everyday life."

Jenna Jameson

"When I had implants, I felt uncomfortable," the former porn star told Us Weekly. "I would be shy at the beach. I know it sounds funny, but I'd wear high-necked clothes, unless I was at an adult-film convention. So I thought, 'why don't I be who I am and get my real ones back?'"

Tara Reid

"I was a 34B, but the right one was always bigger than the left," she told Us Weekly. "He gave me Cs, and I didn't want them. At all."

Tori Spelling

"Well, I got my boobs done in my early 20s," Spelling told Good Morning America. "If I had known that it would or could possibly impact production of milk, I wouldn't have had them. I love being a mom. I am on my third baby. We want to have more. That's my role... these don't matter."
Want more? Be sure to check out HuffPost Style on Twitter, Facebook, Tumblr and Pinterest.