When your sister is giving birth to her second child, where better to be than.. the tanning salon?
Oh well, we'll cut Kim Kardashian some slack. The reality star was seen exiting a tanning salon on Sunday, the same day Kourtney Kardashian gave birth to Penelope Scotland, her second child with boyfriend Scott Disick. But the baby was born at Cedars-Sinai Medical Center early in the morning, AP reports, so we're guessing Kim had time to pay a visit before she got her bronze on.
Plus Kim took time to wish her older sister well on her website, writing, "Kourtney gave birth to a beautiful baby daughter on Sunday and the whole family is so thrilled to finally meet her! She is absolutely perfect! I am so excited to be an aunt again and can't wait to spoil little Penelope."
And there's nothing like the miracle of life to put things in perspective. When Kim left the tanning salon, she looked remarkably barefaced and low-key, sporting just a black tank, black leggings and some awesome pink sneakers. Kim, we love your makeup-free look! Let's make this a habit!
And while we're at it, we'll point out that we're not such big fans of the tanning. You've veered too bronze too many times -- perhaps let's lay off the tanning salons for now, hm?
To summarize: less makeup, less tanning, more being your awesome self. Glad we got that cleared up.
PHOTOS: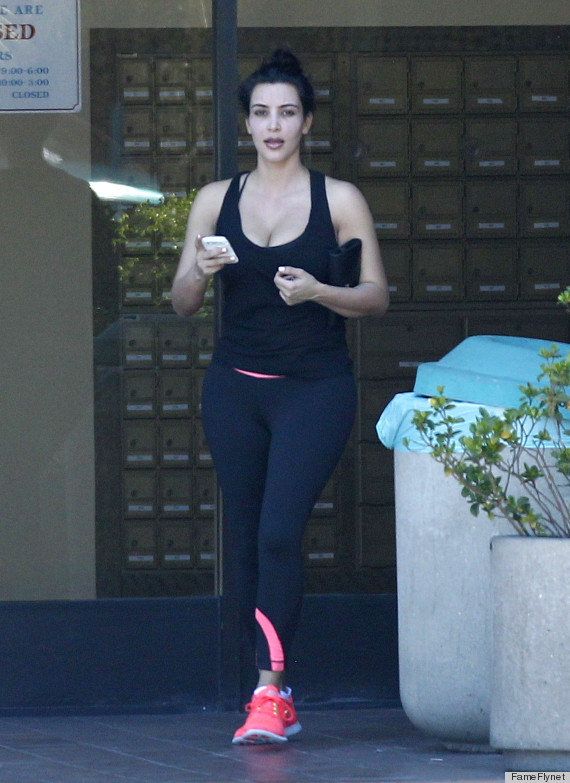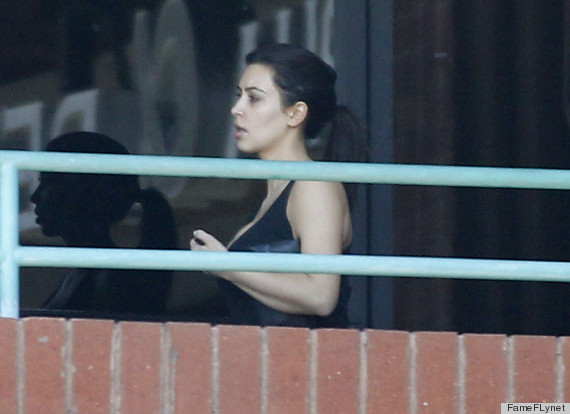 See more celebs who've ditched the heavy makeup:

Loading Slideshow
Demi Lovato

Britney Spears

Krysten Ritter

Claire Danes

Kate Moss

Rachel Hunter

Katy Perry

Jessica Stam

Selma Blair

Rita Ora

Fergie

Tilda Swinton

Paris Hilton

Rosie Huntington-Whiteley

June 2011

Mila Kunis

April 2012

Brooke Shields

October 2012

Brooke Shields

August 2011

Jessica Simpson

Cameron Diaz

August 2011

Jessy Schram

Britney Spears

September 2011

Sarah Jessica Parker

October 2011

Ellen Pompeo

July 2011

Ellen Pompeo

January 2012

Kate Hudson

August 2011

Ciara

August 2011

Minka Kelly

April 2011

Kate Moss

September 2011

Kate Moss

September 2012

Kate Moss

September 2012

Zoe Saldana

September 2011

Liv Tyler

September 2011

Janice Dickenson

Liv Tyler

November 2011

Busy Phillips

Halle Berry

September 2011

Jennifer Love Hewitt

October 2011

Jennifer Love Hewitt

April 2012

Elle Fanning

October 2011

LeAnn Rimes

LeAnn Rimes

October 2012

Salma Hayek

October 2011

Uma Thurman

October 2011

Marion Cotillard

November 2011

Hilary Duff

October 2011

Maria Bello

November 2011

Lala Vazquez

November 2011

Kim Kardashian

November 2011

Snooki

October 2012

Goldie Hawn

October 2012

Amber Valletta

March 2013
Want more? Be sure to check out HuffPost Style on Twitter, Facebook, Tumblr and Pinterest.