When the strange object at the bottom of the Baltic Sea was first spotted, some thought it might be a UFO that crashed into the waters between Sweden and Finland, and at the very least, it bore a striking resemblance to the "Star Wars" Millennium Falcon.
Hardly any media outlets are still calling it a UFO -- and that's a relief, since there's never been any evidence of any kind that this thing was ever an unidentified flying object.
But there's a lingering wrinkle in the origin of this mushroom-shaped anomaly: Could it have been part of a Nazi secret anti-submarine device?
According to Pravda, the Russian newspaper, a retired Swedish submarine officer, Anders Autellus, previously speculated that the undersea object may have been the base of a structure used during World War II to block Russian and British submarine signals.
Autellus told the Swedish newspaper, Expressen, that huge concrete structures were built as traps by Germany to make it difficult for Soviet submarines to navigate in the Gulf of Finland during the war. These large steel wire mesh constructions were reportedly meant to cause signal and radar problems in submarines.
Even as recently as the June expedition to the bottom of the Baltic Sea, divers reported equipment malfunctions when they approached the anomaly, but a concrete reason for it hasn't been determined.
So, no one is saying definitively that the object was, in fact, Nazi-related or more simply, a glacial deposit just sitting on the sea floor.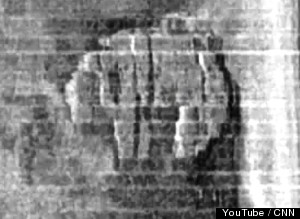 This entire Baltic Sea drama started back in June 2011 when Peter Lindberg, captain of the Ocean Explorer, and his co-researcher Dennis Asberg, using side-scan sonar -- see image at right -- found something unusual 300 feet below the surface of the water.
At first, the reportedly 200-foot-wide circular object made headlines because it looked like the fictitious Millennium Falcon spacecraft from "Star Wars."
Lindberg and Asberg returned to the submerged site this past June to take a closer look at the object that had caused a viral stir, which speculated the anomaly could be anything from sonar glitches, a sunken Russian ship, stone outcroppings, or an alien spaceship.
Pictures and videos were taken of the object, with the eyewitnesses claiming it looked like a giant mushroom, and samples of it supposedly brought to the surface for analysis.
Here's a trailer for an upcoming documentary about the Baltic Sea anomaly.
Some of the material was given to Volker Bruchert, an associate professor of geology at Stockholm University, reports Life's Little Mysteries.com.
"My hypothesis is that this object, this structure was formed during the Ice Age many thousands of years ago," Bruchert said.
And yet, Lindberg and Asberg have also claimed that the only samples they've given for analysis were not from the anomaly itself, but were items from the "vicinity" of the object," writes Open Minds.tv.
Lending yet another mysterious aspect to this whole thing is a description of the Baltic Sea anomaly given by Lindberg during a recent radio interview, where he said, "It has these very strange stair formations, and if it's constructed, it must [have been] constructed tens of thousands of years ago before the Ice Age."
This recent illustration by artist Hauke Vagt shows the stair-like portion of the Baltic Sea anomaly described by Ocean X explorer Peter Lindberg.
So, where does all of this leave the jumbled, confusing un-focused adventure of the Baltic Sea anomaly?
Nobody seems to want to fund any further investigations of Lindberg's discovery, says Life's Little Mysteries.
And Lindberg is soliciting people to help support his research by purchasing apparel from his Ocean X website.
Check out the Baltic Sea anomaly and other strange items here.
Loading Slideshow
Melbourne, Australia, Feb. 2013

This is a composite image of how three alleged UFOs maneuvered about in the sky over Melbourne, Australia, in early February, 2013. The final verdict isn't in yet on whether they're birds, aircraft, balloons, bugs or something truly unidentified.

Lanterns

These candle-lit Chinese lanterns can rise high into the sky and are often mistaken for UFOs.

Exploding Weather Balloons, Not UFOs

On Dec. 20, 2012, a bright, circular object (pictured at the top of this composite image) was videotaped exploding in the skies above Sacramento, Calif. It wasn't immediately identified, resulting in speculation that it was either an alien spacecraft, military top secret weapon, runaway planet, North Korean satellite, among others. Within a short period of time, it became apparent that this was a weather balloon. The bottom part of this image shows such a balloon as it ascended over Tampa Bay, Fla., on July 2, 2012, and exploded in an identical manner as the Sacramento object, probably much to the dismay of all true ET believers out there.

Boomerang UFO composite images -- 10-5-12

This is a composite of images shot by two eyewitnesses of a boomerang-shaped UFO they reported seeing over their Burbank, Calif., home on Oct. 5, 2012. Mutual UFO Network photo/video analyst Marc Dantonio concluded the object was likely "a balloon, floating on the wind that has collapsed in half."

Changing UFO Pattern -- Warren, Mich. 1-10-13

This four-image series of lights in the sky was recorded over Warren, Mich., on Jan. 10, 2013. The lights were seen changing into several patterns. The most logical explanation for these types of UFOs is a series of balloons or lanterns.

UFOs Over Earth

This composite image shows four different times that alleged UFO were photographed above Earth by either space shuttles or the International Space Station. The big question is whether or not they are truly unidentified objects or if they are more likely reflections from spacecraft windows, meteors or fast-moving spacecraft-generated debris.

Pink UFOs Or Lens Flares?

What appear to be pink-red UFOs are actually lens flares from the Google Earth street view camera as it snapped images in Texas (left) and New Mexico (right).

Lens flares Arizona

These two flying saucer-shaped, pink-colored lens flares were created by the Google Maps camera as it drove through locations in Sedona, Ariz. (left) and Flagstaff, Ariz. (right). The images were snapped in April 2009. Submitted to HuffPost by trenna.

Lens flare Whiteriver, Ariz.

This skybound lens flare was created by a Google Maps camera in June 2008 over Whiteriver, Ariz. Submitted to Huffington Post by Cheryl Weeks.

Lens flare Gulfport, Miss.

This very Earthbound lens flare was created by a Google Maps camera in November 2007 at Gulfport, Miss. Submitted to Huffington Post by Jenni Parker.

Lens flare Eureka Springs, Ark.

This seemingly grounded lens flare was created by a Google Maps camera in January 2008 at Eureka Springs, Ark. Submitted to Huffington Post by SE.

Lens flare Escanaba, Mich.

This lens flare appears to be following a car. The Google Maps image was created in October 2008 at Escanaba, Mich. Submitted to Huffington Post by Mary Robinson.

Cincinnati Skydivers NOT UFOs Sept. 28, 2012

On the night of Sept. 28, 2012, a group of strange-looking lights appeared in the sky near Cincinnati, Ohio. First there was one, then, two, then three lights, slowly descending. It turns out, however, that these lights were originating from a group of skydivers performing a pyrotechnics jump at the La Salle High School homecoming event.

Weather Phenomenon

Some UFO sightings may be due to a natural phenomenon known as sprites, like this one shown from 2006. "Lightning from [a] thunderstorm excites the electric field above, producing a flash of light called a sprite," said geophysicist Colin Price.

Clouds

Clouds: Saucer-shaped or "lenticular" clouds that form at high altitudes have been confused with UFOs.

Blimps or Advertising Balloons

Blimps or advertising balloons: These can look like flying saucers from some angles, especially at night.

Sunken Ship in the Baltic Sea

On June 19th the Swedish-based diving company Ocean Explorer discovered something they've never quite seen before. They were exploring in the Baltic Sea between Sweden and Finland looking for sunken treasures when a very unusual image suddenly appeared on the sonar. A 197 feet diameter cylinder shaped object was discovered at the depth of approximately 275 feet which resembles the Millennium Falcon from the movie Star Wars.

Baltic Sea UFO 1

An image released on June 15, 2012, shows a close-up view of the unidentified object sitting on the bottom of the Baltic Sea.

Baltic Sea UFO 2

Close-up of rock bed that forms the Baltic Sea UFO, which still mystifies researchers.

Baltic Sea UFO 3

One of several odd stone circle formations, sitting on top of the unidentified object at the bottom of the Baltic Sea.

Antarctic UFO -- Aug. 10, 2012

A circular UFO hovers above the Neumayer-Station III research facility in Antarctica on Aug. 10, 2012. Theories ranging from a simple weather balloon to a more elaborate ship from another planet have run the Internet gamut. The next slide shows a closeup of the object.

Antarctic UFO Closeup -- Aug. 10, 2012

This is a closeup of the UFO from the previous slide. No official explanation has been offered about the object.

Manufactured UFO -- 2011

Pictured is a quad copter -- a deliberately manufactured UFO created by special effects wizard Marc Dantonio for a National Geographic special, "The Truth Behind: UFOs," which aired in December 2011. On the left is what the small device looks like resting on the ground, measuring 4 feet in circumference. At right, is how it appeared behind a tree in the night sky.

Police Dashboard Camera In Texas

In February of 2012, this fireball was captured by a Texas police chief's A dashboard camera. F.A.A. say this was probably a meteor, falling to Earth. .

Meteors

Meteors: Space debris can create a spectacular light show when it burns through the Earth's atmosphere, and sometimes reported as UFOs.

Civilian or Military Aircraft

Civilian or military aircraft: Planes can look mysterious at night or in certain light conditions, thus confusing an observer.