People magazine may need some extra security outside its headquarters tomorrow, because Ryan Gosling fans are once again sure to be outraged that the magazine's annual "Sexiest Man Alive" honor went to someone else.
As predicted, Channing Tatum was crowned People's 2012 "Sexiest Man Alive."
When the 32-year-old star found out he'd be joining the list of elite men that includes last year's winner Bradley Cooper, Ryan Reynolds, and two-time winners Brad Pitt and George Clooney, he almost didn't believe it.
"My first thought was, 'Y'all are messing with me,'" he told the magazine, adding that he then told his wife, actress Jenna Dewan Tatum, who didn't quite believe it either.
"She was like, 'What?'" he recalled, adding that she came around to the title. "Yeah, she calls me the Sexiest Man Alive Now."
That shouldn't be too strange for Tatum, since the heartthrob is used to female attention. The former stripper parlayed his charm and dancing skills into the basis for the film "Magic Mike," and soon fans will get to see him in another movie that relies on his incredibly toned body, when he portrays an Olympic wrestler in "Foxcatcher."
For more with Channing Tatum and more than 180 other sexy men, pick up this week's issue of People magazine, on newsstands Friday, Nov. 16.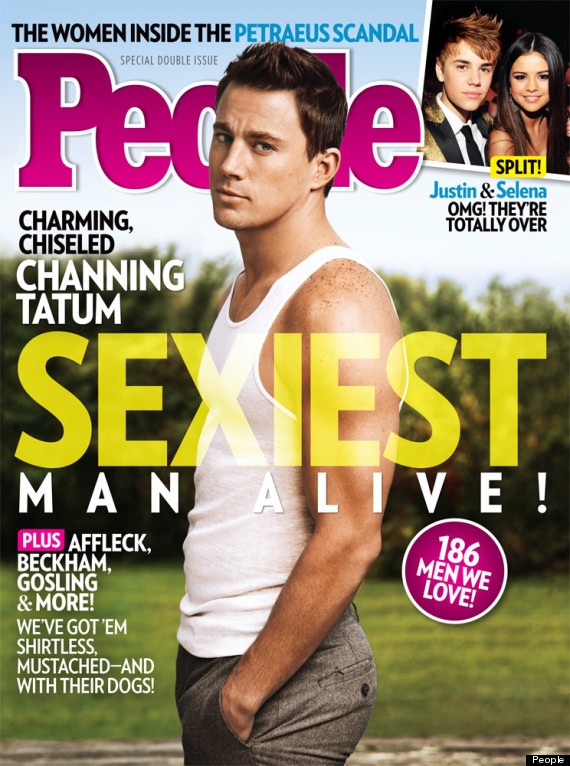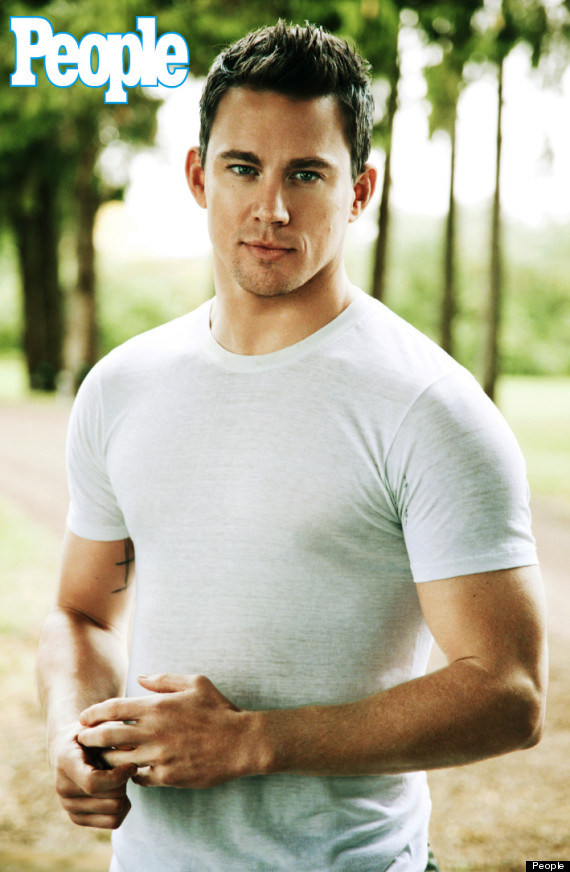 Check out HuffPost Celebrity's 2012 picks for "Sexiest Man Alive":

Loading Slideshow
Ryan Gosling

Hey girl. Many felt that the 31-year-old was robbed of the title last year -- the same year his critically acclaimed films "Ides of March" and "Drive" were released.

Matt Bomer

A co-worker of ours may or may not have breathily sighed about the "White Collar" star: "His eyes. They're amazing."

John Mayer

Like it or not, Mayer has become one of Hollywood's most notorious heartthrobs. He's dated Katy Perry, Taylor Swift, Jennifer Aniston, Minka Kelly, Jessica Simpson and Jennifer Love Hewitt all in the past decade. Whew!

Joseph Gordon-Levitt

He's not that shrimpy kid from "Third Rock from the Sun" anymore. He's a serious action star ("Dark Knight Returns," "Looper") with an even more serious ability to <a href="http://www.huffingtonpost.com/mike-ryan/snl-scorecard-joseph-gordon-levitt_b_1907329.html">dance shirtless</a> on the set of "Saturday Night Live."

James Franco

If actor-writer-director-poet-rappers are your kind of thing.

Ryan Lochte

The Olympic swimmer appears to have gotten a lot of "jeah" votes from lady fans in the bleachers.

Jon Hamm

The "Mad Men" star has been synonymous with "handsome" since the AMC show launched in 2007.

Alexander Skarsgard

The "True Blood" vampire was voted "Sexiest Man Alive" in Sweden a whopping five times. In a row.

Kanye West

Mega talented, mega fashionable, and mega dating Kim Kardashian, who lives every day like it's a personal "Sexiest Woman Alive" competition.

Justin Timberlake

Justin Timberlake may be married now, but the 31-year-old still has got his "Sexy Back."

Ian Somerhalder

Because the 33-year-old has been beautiful for decades. <a href="http://www.buzzfeed.com/whitneyjefferson/ian-somerhalders-teen-modeling-career">Really</a>.

Justin Bieber

Sweet to parents, even sweeter to kids: 18-year-old Justin Bieber knows his way to a girl's heart.

Anderson Cooper

Two words: Silver Fox.

Adam Levine

The Maroon 5 singer's charisma oozes off the stage.

Robert Pattinson

Brooding and with a reason.

Daniel Craig

Because he introduced masculinity into the James Bond franchise again. And because the Sam Mendes-directed "Skyfall" is supposed to be the best James Bond film in years.