By Dan Mennella
aol.com
Ever wondered what it really means to be a free agent in sports? It means you're a player who doesn't have a team. For established professional players, free agency is just a formality, an interlude between stints of gainful employment. Then there's fringe players who who may or may not continue their careers depending on whether they can secure another contract. And then there's the rest of us ... perpetually in between pro contracts in the very loosest of senses.
For a couple of enterprising NBA fans, though, they at least have official, rubber-stamped confirmation that they are indeed free to sign with any interested team.
In April, Nick Moran of Hoboken, N.J., and Andrew Hunter of Brooklyn, N.Y., decided "after a few drinks" to send letters to the NBA in which they declared their respective eligibilities for the upcoming NBA Draft. Much to their surprise, they each received response letters a couple weeks later from league vice president Andy Taub, informing them that they were no longer eligible for the draft, thus rendering them free agents.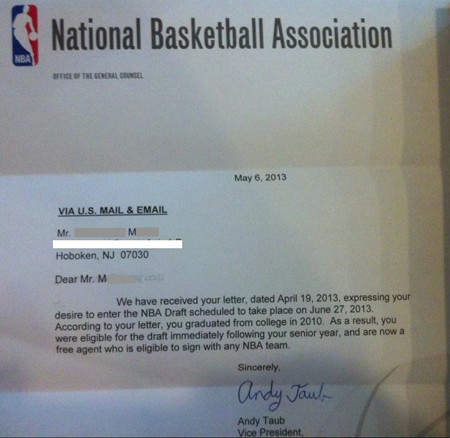 Moran anonymously posted his letter from the NBA on Reddit, where he goes by the handle nemoran. There, it garnered lots of reads and comments from his fellow users, and soon it was picked up by popular mainstream sites and blogs.
"I had no idea this would take off as much as it had," Moran said via email. "I actually expected a whole bunch of people to be like, 'lol lame' and hit me with a wave of downvotes. I posted it pretty late on Thursday night, and then got off the computer for a bit. When I checked again that night right before bed, it was up to #1 on the NBA board and my inbox was full of hundreds of messages, and that's when I knew things were gonna go crazy."
"We thought it would be a big deal amongst about 100 people," Hunter said. "Friends, relatives, and the like."
An NBA spokesman confirmed to AOL that the letters from the NBA are real, and also confirmed that it's league policy to reply to all such queries regarding draft eligibility. That's right, folks: If you want to declare yourself eligible for the NBA Draft -- and, why wouldn't you? -- then the NBA will reply to your formal submission.
This isn't the first time the NBA's (formerly) obscure draft policy has fueled a viral Internet story. In 2007, a college junior named Zachary Feinstein documented a similar experience after hearing back from the NBA about his own draft eligibility.
Meanwhile, Moran and Hunter say they didn't know their letters would automatically prompt a response from the league. They also deny staging the events as a PR or get-me-a-job stunt, but they freely admit they're willing to shamelessly capitalize on the attention should any new opportunities arise -- perhaps even in the NBA -- and have launched a site, We Declare, where they plan to document their own experiences.
"An actual interview with an NBA team would be outstanding," Moran said. "We've gotten some people questioning our legitimacy online -- I've been reading the comments. A news conference to clarify that would not be unwelcome. ... But what we can offer a team includes (and is not limited to) great camaraderie, fantastic high five choreography, good bench celebrations, and a favorable 'height juxtaposition' were we to stand next to some players who might be worried that they look short -- next to us, they'd look like monsters."
Moran, a writer and social-media editor, and Hunter, a copywriting student, met as undergraduates at the University of Miami. While drunkenly writing their query letters to the NBA was spontaneous, they both said they'd been kicking around the idea for a while.
"We both had one of those light bulb moments," Moran said. "What does it take to enter the draft? Like how do you declare? Is it like in The Office, where Michael Scott just yells 'I DECLARE [BANKRUPTCY]' or is there a formal process?"
Indeed, there is a formal process. Now, Moran and Hunter are a couple of NBA free agents -- just like the rest of us.