A photograph of the president in the Oval Office hit the Internet on Saturday -- and immediately sparked major backlash from some naysayers.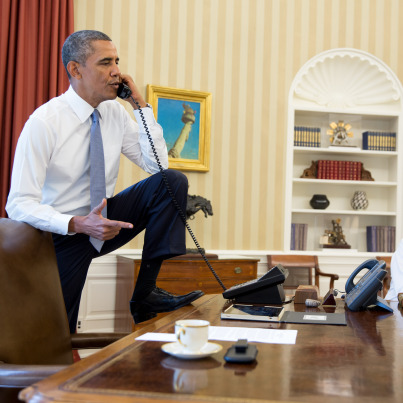 Taken by White House photographer Pete Souza, the image shows President Obama standing in the Oval Office and talking on the phone with -- here's the kicker -- one foot propped up on his desk. The photograph was featured on The Drudge Report and was quickly deemed 'offensive' and 'appalling' by some on the right, including Fox Business host Lou Dobbs.
The Tea Party got in on the action by asking its Twitter followers if seeing the president with his feet up in the storied room makes 'your blood boil?'

However, this is hardly the first time Obama has been seen in casual repose in the Oval Office. The Blaze reminds us that this photograph is merely the latest in a slew of images that show the president kicking back.
Interestingly, he's not the only commander-in-chief to be snapped with his feet up -- Mediaite notes that Presidents George W. Bush and Gerald Ford were both photographed in similar poses behind the historic desk.